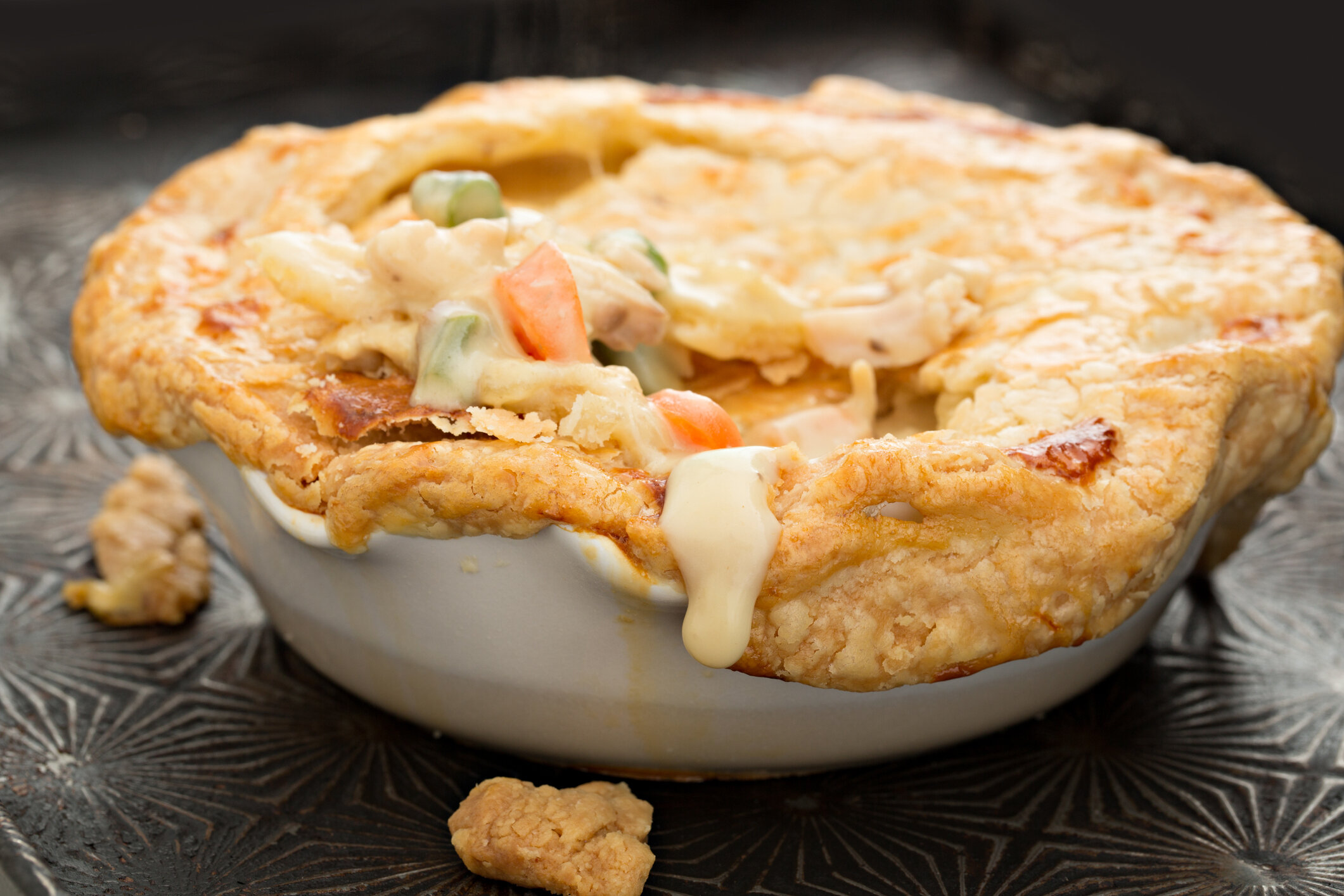 Most of the time when we think of the holiday season, we think of joy and celebration. However for many, the holidays can bring stress, anxiety, or reminders of a lost loved one. There is also a decrease in daylight hours and many people start to pull away, a sort of hibernation from their world. Stress, anxiety, and depression can increase, and for some it stays consistent as they cope and heal from trauma. Sometimes we crave creature comforts, and often this means comfort foods because they provide psychological comfort and are often associated with positive memories from our life. It got me thinking about chicken pot pie. I know you must be wondering "why on earth chicken pot pie?". Simple....because who among us doesn't need to feel encapsulated or protected at times by a thick shell? I often use this analogy with my clients when we talk about trauma and grief, anxiety and depression.
A chicken pot pie is a warm and savory dish that has a crust surrounding it, both as its foundation and as its lid. A homemade crust for chicken pot pie truly makes a difference, as you can better understand how it behaves and make modifications to your own liking, especially with regard to thickness of the crust. When it comes to pot pie, it's also what's inside that counts. Most of the ingredients back in the day came from people having to make the most of what they had. According to some food historians the pie was invented as a way to preserve meat in medieval Europe. The pastry, today an essential part of a good pie, was not meant to be eaten. The pastry shell was used as the container to cook the meat in or simply to preserve the meat. The shell was often called a coffin and could sometimes be up to 6-7 inches thick, protecting anything inside its crust from being exposed.
When we talk about trauma and grief and the pain that is often associated with loss, we can often see the appeal and psychological benefit of building a very thick shell around how we feel and how we are impacted by trauma and loss. This shell can preserve what lies deep within for as long as the 'homemade shell' allows. Most people find that trauma, anxiety, and loss can threaten our happiness, our peace of mind and our physical, emotional and spiritual well-being.
Developing defenses is a natural outcome. However, it is common that the more defenses we set up, the more distant or isolated we become and the more we are closed off from love and support. It is difficult to release pain. It's natural to protect yourself and the "crust" which protects where we bury all the trauma and loss, anxiety and fear, will keep those feelings safe until we are ready to open it up, expose what is inside.
When you seek treatment for the "insides", which most often initially is talk therapy, the process of opening up and establishing a safe, nonjudgemental atmosphere can help chip away the crust and "inner-stuff" oozes out. It can be managed through developing better coping strategies and self-talk, as well as finding ways to ground yourself through other venues for calming including soothing music, prayer and meditation, mindful breathing, yoga, aromatherapy, and exercise. Traditional talk therapy may serve as a way to heal trauma symptoms by dealing with the "thinking" part of the brain, helping a person understand the trauma and slowly desensitize themselves to the emotional intensity of it. When we are ready to seek deeper treatment for trauma or loss, anxiety or fear, to address the sensory responses in the body, we can look towards EMDR, sensorimotor therapy, or Brainspotting. These methods are synonymous with breaking open the pot pie and digging in deep to all the inside material (once we let the steam out and let it settle). Brainspotting, for example, is a brain and body-based treatment modality that allows for deeper processing.
We have begun to recognize that the frontal part of the brain has limited ability to change the deeper parts of the brain, especially when the body is in a trauma response or distress. So, as we look closely at the analogy between chicken pot pie and trauma, grief, and anxiety, we can start to understand the value of different approaches to healing at different points in ones life. We may surround ourselves with a thick crust, whether intentionally or inadvertently, to protect ourselves from the pain of the inside "stuff". We can learn and internalize coping strategies to help to process and "clean up" the stuff that oozes from the safe protective shell until we are ready to break the crust open and dig into all the material inside. We all move at our own pace through anxiety, grief, loss, depression and trauma. The first step in healing is asking for help and just knowing you don't have to face it alone anymore. As a side note....for those of you who may be now craving chicken pot pie... my favorite recipe is below:
Best Chicken Pot Pie Recipe:
8 tbsp unsalted butter divided

2 cups chopped yellow onion

1 cup chopped carrot

1 cup chopped celery

1 cup chopped potato (I like yellow or red potatoes)

10 sage leaves chopped

5 sprigs thyme

1 rosemary stem

1 cup frozen peas

3 cups diced, cooked chicken breast

3 cups chicken stock

1/2 cup flour

1/4 cup heavy cream

2 prepared pie crusts*

salt pepper

1 egg, beaten (for egg wash)
Instructions:
Melt two tablespoons of butter over medium heat in a large pot, and add the onion, carrot, celery, potato, sage, thyme, rosemary, 1/4 tsp salt, and 1/8 tsp black pepper. Saute the vegetables, stirring every few minutes, until soft, about 20 minutes. Add the peas and diced chicken to the pot. Preheat the oven to 375 degrees F. Add the remaining 6 tbsp of butter to the softened vegetables, and let it melt completely. Add the flour and stir to distribute, until there are no more pockets of dry flour. Remove the herb stems from the mixture and discard. Add the chicken stock, bring the mixture to a boil, reduce the heat to a simmer, and let it bubble for a minute or two until the mixture has thickened. Stir in the heavy cream, as well as 1/2 tsp salt and 1/4 tsp black pepper (or desired amounts to taste). Remove the pan from the heat. Lay the bottom pie crust into a standard 9" pie plate, and spoon all of the chicken vegetable mixture into the crust. Place the other pie crust on top, and crimp with your fingers or with the tines of a fork.
Brush the top with egg wash, then cut slits into the top of the crust, so the steam can escape during baking. Bake for one hour, until the pie crust is deeply golden brown and flaky. Serve and enjoy!
This recipe was modified from www.fifteenspatulas.com/chicken-pot-pie-2/
Author: Kelly Weinberg, LCSW-C
Like what you read? Click here to read more about Kelly and her work at LifeSpring Counseling Services.